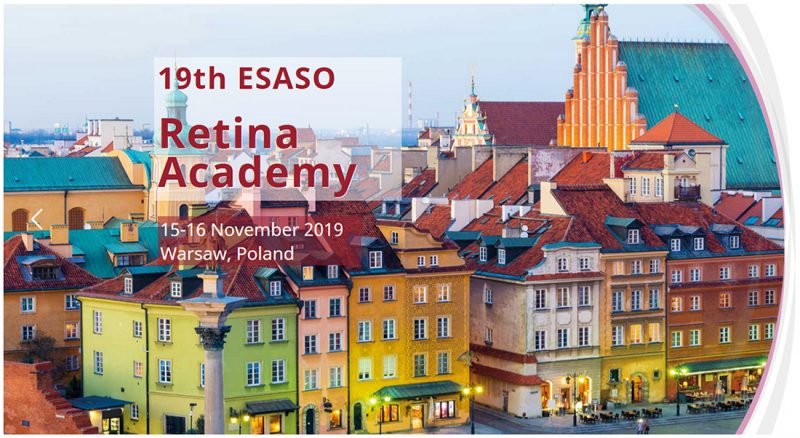 ESASO Retina Academy key aim is to maximize participants learning, through a variety of standard sessions, video sessions and masterclasses.
Some standard plenary sessions will begin and end with questions to the audience, in order to evaluate the learning level in each session.
Plenary sessions will provide important insights from renowned experts into current knowledge and clinical practice on a range of hot topics in ophthalmology.
In addition, the well-known expert Rupert Bourne (UK) will deliver a keynote lecture on an important topic.
The scientific programme for this year also includes focus on "critical point" related to the evaluation of retinal diseases; debates on "controversial point" and their medical management; surgical masterclasses and a vitreoretinal video surgery session.
The masterclass format is always highly rated by participants, as it allows informal interaction between participants and speakers counting with years of experience.
Why should you attend ESASO Retina Academy meeting this year?
This year participants will benefit from activities related to the management of retinal diseases provided by a wide variety of experts coming from around the world.
Dissemination of new and effective ways of learning and expertise will help participants to improve their clinical and surgical practice, using a range of approaches including in-depth exposition of topics, debates and video-tutorial.
Another important aspect of this international event is the opportunity for young and more experienced ophthalmologists alike to meet, discuss and network in a relaxed environment characterized by a collegial spirit.
Last but not least, ESASO supports ESASO Graduation and presentation of the Fellowship to address unmet needs in eye care.
According to the previous editions, winners of the ESASO Graduation and presentation of the Fellowship will be announced during the ESASO Retina Academy meeting.